Sierra Charlie Purchases Second AL172 Flight Simulator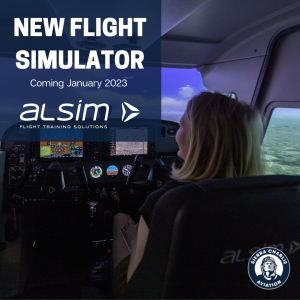 The ALSIM AL172, built to FAA FTD Level 5 standards and already certified as an AATD, is an exact replica of a brand-new Cessna 172SP Skyhawk with a real Garmin G1000 NXI and GFC700 auto pilot.
Scott Campbell, Sierra Charlie Founder, and President explains: "Sierra Charlie Aviation was founded in 2016 in Scottsdale, AZ. Since the inception, the school has grown to become an AOPA awarded flight training provider year after year. Most notably, awarded Best Flight School in the Western Pacific region. In 2021 Sierra Charlie set out to build a career pathway program to bring pilots from zero experience to career pilot. The program, appropriately call The Aviator program, is designed to create the all-around professional. When building this career program, Sierra Charlie wanted to provide students with the best possible training tools in the industry. With the purchase of 9 brand new Cessna 172's from the factory, and a brand new 2020 piper Seminole, the mission now was to find the best flight simulator to meet the Aviator Program's needs. The needs were simple, SCA wanted an exact 1:1 match of the Cessna 172S G1000Nxi, good reliability/maintenance, and a SIM that students would enjoy. The AL172 from ALSIM did just that. Since the AL172 has been in operation it has received raving reviews from our students and instructors."
Madi Rhodes, the Aviator Program student, says: "The AL172 has allowed my instrument flight training to be a breeze. Having a flight simulator that is an exact model of our schools' airplanes allows for such an easy transition into the airplane. Compared to other flight simulators I've used, the AL172 has been unmatched."
Scott Campbell, Sierra Charlie Founder and President adds: "With the amazing growth of the Aviator Program. Sierra Charlie Aviation is happy to announce that our second AL172 from ALSIM will be arriving in January. This second simulator from our partners at ALSIM will allow us to serve more students as the Aviator Program continues to grow."
Dr Scott Firsing of ALSIM's North America office adds: "Sierra Charlie's overall growth has been remarkable. They logged over 350 hrs in their simulator in August. It basically runs morning, afternoon ,and night. Scott Campbell and the team 'get it,' meaning the sim is an ideal environment to learn and practice. Moreover, hardwiring scenarios and other training in the AL172 is an absolute necessary."
ABOUT SIERRA CHARLIE AVIATION
Sierra Charlie has grown to become a national award-winning flight school over the last few short years, our knowledge of the aviation business is deeply rooted in years of experience. Our training fleet is comprised of factory-new, Cessna 172 Skyhawks that are G1000 and GFC 700 equipped. The Cessna 172 Training is very easily transferred to a Cessna 182 Skylane, a Cessna 206 Stationair, and the Cessna TTx. The glass cockpit training you will receive with Sierra Charlie Aviation allows for a positive transfer of learning to every glass cockpit aircraft, from a Cirrus SR-22, to a TBM, to a Citation Mustang.
Further, with aviation technology transferring trust into the G1000 and GFC 700's capabilities, you can put faith in training in a relevant aircraft and preparing yourself for a future of flying. Also, our Cessna Skyhawks burn fuel at an average of 8.5 gallons per hour, a fuel burn ratio far lower than that of a Cirrus, for example, which ultimately saves you money that can be spent on valuable training time.
Our instructors are experienced veterans and have spent many years in the cockpit. They strive for you to feel safe and confident both while you're learning, and beyond your training. The factory new Cessna aircraft you will be training in keep your training efficient and safe; and with on average, our students at Sierra Charlie Aviation finish in less time than the national average, giving you the financial advantage.